Zimbabwe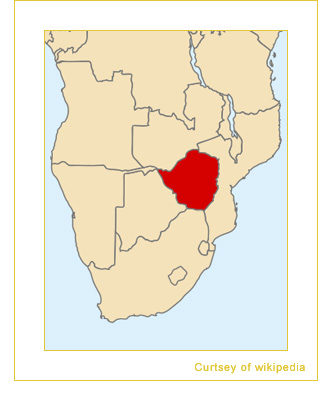 Zimbabwe is a landlocked country in southern Africa lying wholly within the tropics. It straddles an extensive high inland plateau that drops northwards to the Zambezi valley where the border with Zambia is and similarly drops southwards to the Limpopo valley and the border with South Africa. The country has borders with Botswana 813 km, Mozambique 1,231 km, South Africa 225 km, Zambia 797 km and meets Namibia at its westernmost point.
It is the 59th largest country in the world (although below average size for Africa) just larger than Japan or Montana but smaller than Paraguay, with a total area of 390,580 km², of which 3,910 km² comprises lakes and reservoirs.
The climate is tropical, although markedly moderated by altitude. There is a dry season, including a short cold season during the period May to September when the whole country has very little rain. The rainy season is typically a time of heavy rainfall from November to March. The whole country is influenced by the Intertropical Convergence Zone during January. In years when it is poorly defined, then there is below average rainfall and a likelihood of serious drought in the country (as happened in 1983 and 1992). When it is well-defined then rainfall is average or well above average, as in 1981 and 1985.
For more info, maps, images and reference please visit: , http://en.wikipedia.org/wiki/Zimbabwe.