Swaziland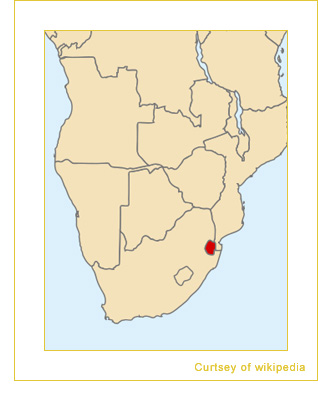 Swaziland lies across a geological fault which runs from the Drakensberg Mountains of Lesotho, north through the Eastern highlands of Zimbabwe, forms the Great Rift Valley of Kenya and, eventually, peters out in present-day Turkey.
Landscape in Swaziland.
A small, land-locked Kingdom, Swaziland is bordered in the North, West and South by the Republic of South Africa and by Mozambique in the East. Although Swaziland has a land area of only 17,364 km2, roughly the size of Wales or the American State of New Jersey, it contains four separate geographical regions. These run from North to South and are determined by altitude.
Swaziland is located at approximately 26o49'S, 31o38'E. Swaziland also offers a wide variety of landscapes, from the mountains along the Mozambican border to savannas in the east and rain forest in the northwest. Several rivers flow through the country, such as the Great Usuthu River.
Along the eastern border with Mozambique is the Lubombo, a mountain ridge, at an altitude of around 600 meters. The mountains are broken by the gorges of three rivers, the Ngwavuma, the Usutu and the Mbuluzi. This is cattle ranching country.
The western border of the country, with an average altitude of 1200 meters, lies on the edge of an escarpment. Between the mountains rivers rush through deep gorges making this a most scenic region. Mbabane, the capital, is located on the Highveld.
The Middleveld, lying at an average 700 meters above sea level is the most densely populated region of Swaziland with a lower rainfall than the mountains. Manzini, the principal commercial and industrial city, is situated in the Middleveld.
The Lowveld of Swaziland, at around 250 meters, is less populated than other areas and presents a typical African bush country of thorn trees and grasslands. Development of the region was inhibited, in early days, by the scourge of malaria.
For more info, maps, images and reference please visit: , http://en.wikipedia.org/wiki/Swaziland.